Athletic Director: Kelly Arnold
225 West 4th Avenue
P.O. Box 570
Nucla, CO 81424
Phone: 970.864.7350
Fax: 970.864.7269
Activity schedules are subject to change with very little notice. Always check the district calendar below for updated information. For questions, please contact Kelly Arnold, Athletic Director, at karnold@westendschools.org
Important Student Athletic Information
Planet High School (PHS) is the website that Colorado High School Athletic Association (CHSAA) has partnered with to facilitate essential athletic forms. All athletic forms can be found, signed, uploaded as well as stored within PHS. PHS also collects and stores all important medical information pertaining to athletes, as well as where their emergency contact information is located. This is a CHSAA rule and if you do not have a PHS account properly filled out then you will not be eligible to participate in high school sports.
With sports beginning soon, it is very important that all students sign in to their PHS account to make sure that the account is still active. I have noticed that a few high school athletes are missing from the school list. All incoming freshmen must sign up for an account and then invite their parents to join. The student, as well as a parent, must have their own separate account. To make the process easier the student account should be established first and then the student should send an invite to the parent or guardian to join.
Please go to www.planeths.com to set up your account.
Here is a link to a video that will help you get started setting up your PHS account as well as linking the student account with the parent account Big Teams.
ELIGIBILITY REQUIREMENTS: To participate in activities, a student shall meet all academic requirements set by the school as well as all responsibilities and standards of behavior that apply to enrolled students. Eligibility for sports is determined by student performance on a weekly basis. Students assigned to Out-of-School Suspension (OSS), or are truant the day of the activity may not participate in an event that day. When suspended or truant on a Friday, a student is ineligible to participate in a Friday and Saturday event. Students must be in school for at least half of the school day preceding the sporting activity and if the event is held on a Friday/Saturday that student must be in school at least half of Thursday unless prior arrangements have been approved.
A student who is failing at least one subject at the end of a week will be ineligible for participation the following week.

If a high school student fails a class for the semester, that student will be ineligible for the following semester.

The regain date will fall in accordance with CHSAA guidelines (fall/spring).

To regain eligibility on those dates, the student must be passing all of the classes they are enrolled in. If an ineligible student is failing any class for which he/she is enrolled in on those dates, that student will then be ineligible for the remainder of that semester.

Students who fail course(s) in the second semester may regain eligibility for the upcoming fall semester by passing an approved correspondence course or summer school where available. The student must see the counselor for more details and approval of all classes, courses or programs taken in order to regain credit.

During the week of ineligibility, the team member is restricted from suiting up, participating, or traveling if the game is during the school week. If a game is on a Friday or Saturday, the athlete may travel with the team if it is not an overnight trip. Athletes are expected to practice with the team unless otherwise excused by the coach or sponsor.

Unless prior arrangements have been made, students must be in school a minimum of one-half of the school day to practice or to play in a game.
DOWN LIST: Beginning with the first week of each semester an accumulative grade will be submitted each week to the office to determine the eligibility list for extracurricular activities and to identify those students possibly in need of remedial instruction. Ineligibility will begin at the end of the second week of Semester 1 and Semester 2. If a student has a failing grade on the Monday of the third week, that student may not participate in that week's activities. Students that are failing (59% and below) in any subject shall be ineligible for extra-curricular activities until they raise their grade to at least the "D" (60% or above) level in all classes. Grades used to determine the down list shall be a composite of all grades accumulated from the start of each semester. A student who is failing a class at the end of the semester will be ruled ineligible. Parents will be notified weekly through the IC message system.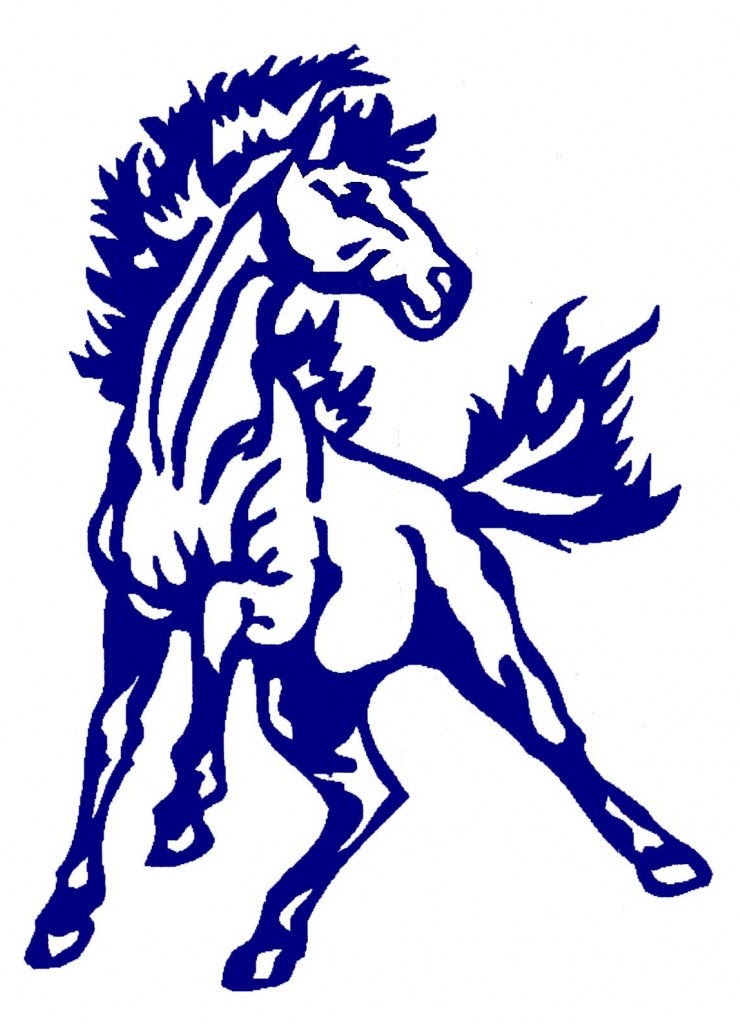 Nucla High School Fight Song
Our team will fight, fight, fight for Nucla High and for our colors Blue and Gold, and with the Wranglers cheering for our team, our team will fight so brave and fight Rah, Rah, Rah, Rah.
Our team will fight, fight, fight for Victory and when we win this game then you will see.
That we're the best of all the schools around. Rah, Rah, Rah-Fight, Fight, Fight, Fight you Mustangs fight! Hey!